Out of stock
Unfortunately this item is currently out of stock.

This fantastic range of Gift Boxes are a great way to spoil any fan of the Colman's Mustard product or brand.
Each Gift Box comes beautifully packaged and is packed full of Colman's Mustard goodies.
Gift Box K includes:
- Colman's Mustard Powder with Tarragon & Thyme (Exclusive to Colman's Mustard Shop & Museum)
- Large Spoon
- Mustard Tin Mustard Pot
Other customers purchased this with...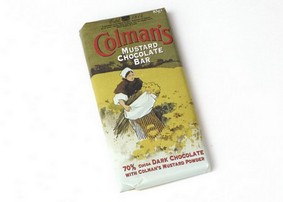 Colman's Mustard Chocolate Bar is produced exclusively for the Mustard Shop by the local company Butterworth & Son, using the finest plain chocolate (70%) and Colman's mustard powder. Although it seems like a novel combination, mustard can be utilised in cooking to enhance the flavour of chocolate.
One of our top-selling lines, the delicious dark chocolate melts in the mouth to deliver a very subtle, spicy after-taste. Try adding this to chilli recipes to add a depth of flavour, or as an accompaniment to venison.