Colman's have been making fine quality mustards in Norfolk for 200 years and this tradition is celebrated in Colman's Mustard Shop & Museum, one of the city's most popular and cherished heritage attractions.
Housed in the historic Art Nouveau Royal Arcade near Norwich Market, the shop is a careful replica of a Victorian trade premises.
It stocks an extensive range of powder and prepared mustards, including a number of specialities made exclusively for the shop and a wide selection of mustard pots and spoons, gift packs, tea towels, Colman's memorabilia and more. Displays also illustrate all aspects of the history and production of Colman's mustard, with many historic items on show such as wartime mustard tins and Art Deco mustard pots.
Visit us and take a step back in time
Find out how Jeremiah Colman started his mustard empire
Learn how Colman's mustard is made
Discover beautiful and historic mustard items
Sample a range of delicious mustards
Buy gifts and souvenirs
Opening hours for 2014
Mon – Sat: 10am – 5pm
Open Sun: 11am – 4pm from July to December
Open: 10am-6pm on Tuesdays and Thursdays from November 25th
Bank Holidays: 11am – 4pm
Closed: New Year's Day, Good Friday, Easter Sunday, Christmas Day, Boxing Day.
Colman's Mustard Shop & Museum
15 Royal Arcade
Norwich
NR2 1NQ
T: 01603 627889
F: 01603 762142
E: [email protected]
History of Colman's Mustard Shop & Museum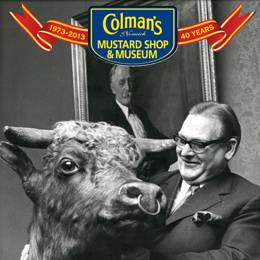 Opened in 1973 in Bridewell Alley to commemorate the 150th anniversary of J&J Colman's, The Colman's Mustard Shop & Museum was intended to be open for one year but it was so successful and popular it continued. Popular TV chef Fanny Cradock and her partner Johnny were present at the opening, alongside newly appointed manager Ben Cook, who had commenced his employment with Colman's at the age of 14. No expense was spared; VIP guests were transported to the occasion on a Colman's train that came from London, and a large cake shaped like a mustard pot was distributed to guests. Celebrities and locals alike clambered into Bridewell Alley where they witnessed the Chairman officially declare it open for business.
The Mustard Shop was transferred to the historic Royal Arcade in 1999, where a succession of managers witnessed it blossom into a growing attraction for both locals and tourists.
The Shop was exhibited in 1976 when a replica that had previously been used in the Norfolk Show was transported to a Rotterdam department store to form part of the Britain 76 promotion. The following year, Colman's Mustard Shop hosted an exhibition dedicated to silver mustard pots. Some of the pieces were made by descendants of Percy K Hennell, a London silversmiths who had been crafting mustard pots since 1770. The pots incorporated diverse designs, such as kangaroos, cats, dogs and one in the form of the theatrical character Punch.
Today it is one of Norwich's most cherished tourist attractions, popular with locals and visitors alike, and is now celebrating 40 years of telling the Colman's story with a series of special events throughout the year.