Product Code
667803000806
Heat Rating:

Colman's world famous Double Superfine Mustard Powder.
Can be mixed with any cold liquid (water, wine, beer) to serve as a prepared mustard. Best mixed with equal amounts of cold liquid and powder, leave to stand for 10 minutes to allow the full flavour to develop.
But can also be used in powder form to spice up salads, vinaigrette dressings and mayonnaise, as well as to add a kick to many sweet and savoury dishes.
Ingredients: Mustard Flour
| | |
| --- | --- |
| Brand | Colman's |
| Use By Recommendation | Store in original tin. Use by expiry date. |
| Additives | No |
| Vegetarian | Yes |
| Gluten Free | No |
| Organic | No |
| Allergen Information | Contains mustard flour |
Other customers purchased this with...
This heavy duty, PVC apron depicts the world famous Colman's Mustard Label which was first introduced in 1915.
UK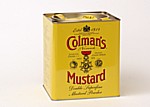 CUSTOMERS ONLY: Colman's English Mustard also available for delivery in a 2kg tin. Contact the shop for more details. Call 01603627889 or email [email protected]